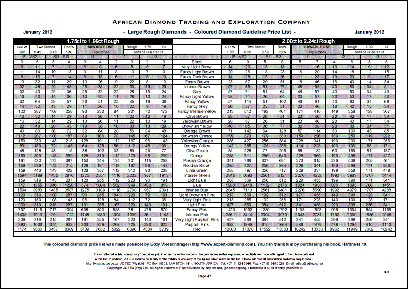 Coloured Diamond Guideline Price List
This price list, developed in collaboration with Eddy Vleeschdrager (www.expert-diamond.com), provides prices for coloured rough diamonds ranging from 0.10ct to 49.99ct.
Because of the wide range of prices paid for coloured diamonds on the open market, we have provided a low and a high price for each stone category. Because colour is a very important characteristic, not too much emphasis is placed on purity. Therefore, purities are grouped into visually clean, slightly included and included 1, 2 and 3 categories.
The evaluation procedure is as follows:
Weigh the rough diamond
Select the corresponding pages (5) based on the weight of the rough diamond (1)
Decide on the pricing page (from the 5 pages in step 2) by determining the shape of the rough diamond
Decide on the colour and purity of the rough diamond
Look up the values (low and high) in the pricing section (3) by finding where the colour row and purity column intersect
Multiply these values (5) by 10 to give you the US$/ct prices
Multiply the US$/ct prices (6) by the rough weight (1) to give you a range of prices you can pay for the rough diamond
Because coloured diamonds are thinly traded, you should try to purchase at the lower end of the indicated price range to reduce your risk.